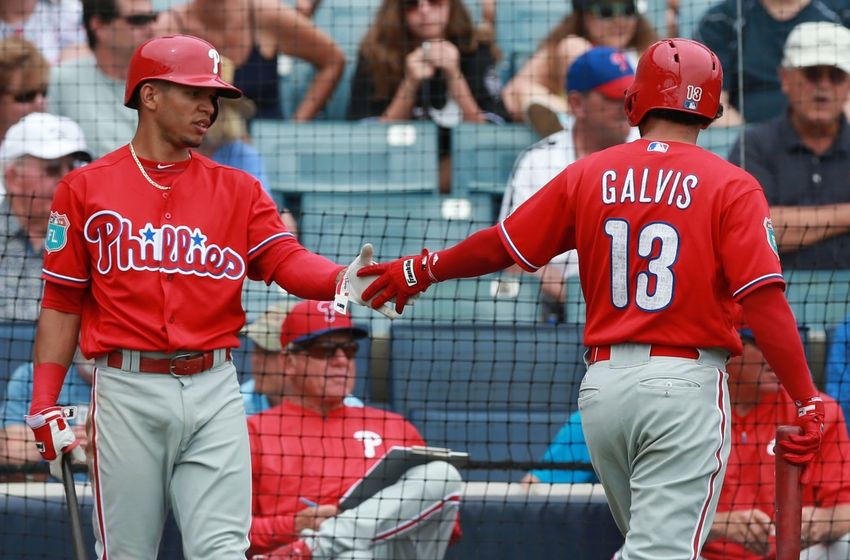 For more than a decade from May of 2004 through the 2014 MLB trade deadline, fans of the Phillies were treated to perhaps the best middle infield combination in all of baseball, and easily the best combo in the history of the franchise over such a long period of time.
It was in May of 2004 that 2nd baseman 
Chase Utley
 received his final promotion to the big leagues. 
He joined the already established but young shortstop 
Jimmy Rollins
to form a middle infield that would become the core of five straight NL East champs, back-to-back National League pennant winners, and a World Series championship.
They were not only a strong defensive combination with tremendous chemistry in that aspect of the game, but each was a gifted offensive performer. 
Utley was a six-time NL All-Star and four-time Silver Slugger. Rollins was a three-time NL All-Star, four-time Gold Glover, and the 2007 National League Most Valuable Player, also winning a Silver Slugger that season.
Both players naturally aged, and in the last two seasons it became time for them to move on. Each was ultimately dealt to the Los Angeles Dodgers, J-Roll in December of 2014 and Chase the following summer. Replacing them was going to be difficult, if not impossible.
At least in the short-term, the replacements at each position are nowhere near the same quality of player. The Phillies performance in the standings deteriorated as age did the same to the former greats. 
The new duo has been unable to help reverse that decline. In fact, their limitations as players is contributing to the team becoming the worst in baseball.
Taking over for Rollins as the starting shortstop has been the now 26-year old 
Freddy Galvis
. 
About to begin his 5th big league season with the Phils, his 2nd as the full-time anointed starter, Galvis hit for a .263/.302/.343 slash line last year across 559 plate appearances. He produced seven homers, 50 RBI, 63 runs scored, and stole 10 bases.
Cesar Hernandez
 will turn 26 years old in late May of the coming season. This will be his 4th big league season with the Phils, and the first in which he enters with a starting job pretty much sewn up. 
He became the full-time starter following Utley's trade last year, and hit for a .272/.339/.348 slash line across a career-high 452 plate appearances in which he produced 35 RBI and 57 runs scored, stealing 19 bags.
Galvis and Hernandez are no Rollins and Utley. No one really ever expected them to perform at that level. 
The Phillies have top prospect 
J.P. Crawford
 coming from the minor leagues, hopefully sooner than later. He is expected to be the real heir apparent to the JRoll legacy.
Meanwhile, 2nd base may remain a challenge for the Phillies. Hernandez plays sound defense and has speed. 
There is hope that, given everyday playing time, he can become at least dangerous enough offensively to score 80+ runs and steal 30+ bases. If so, he could be the answer. If not, he could be pushed by 
Darnell Sweeney
 as the short-term answer.
If neither player is good enough to take ownership of the position, that answer could ultimately be provided by last year's 2nd round draftee Scott Kingery, who will turn 22 years old in late April. 
But this will be Kingery's first full professional season, and he is not likely to be ready until 2018 at the earliest.
One thing is painfully obvious, the Phillies will not be receiving the type of offense from the middle infield over the next couple of seasons that they enjoyed in their glory days run of division crowns. 
We all look forward now to the arrival of Crawford, who carries with him the hope that the Phils can begin to return at least half of that production.